The home healthcare industry brings in $136 billion a year and employs more than 2 million people. Of that figure, $37 billion represents pediatric home care, growing by 8% annually.
An in-home care franchise is essential to meet the needs of the market. When considering franchise partners or in-home senior care franchises, check out First Day HomeCare.
Families in Need
Families with a medically challenged child need help. Although parents may be experts at caring for their children, in-home pediatric nursing care services offer them peace of mind that in the event of an emergency, someone is there to help.
Medically fragile children who are tracheostomy or ventilator dependent among other things often need a lot of specialized care. Nurses skilled in caring for children can offer that assistance, including traveling with children to and from school on the bus to ensure their safety. They can also help train parents on the best way to handle certain medical situations and provide other specialized services such as companion care, meal planning, safety supervision, medication management, help with medical equipment, and ongoing support.
Parents Need a Break
Parents of medically complex children are on the clock 24/7, performing many necessary care tasks (tracheostomy suctioning, ventilator monitoring, tube feeding and medication administration, and other things)) required to keep their kids safe and healthy.
An in-home nursing franchise gives these parents a much-needed break so they can focus on other things for a while. Imagine positively impacting a family by providing family members time to rest and recharge. That value is priceless.
If you want to make a difference in the lives of people who need medical assistance, an in-home care franchise is a great way to get started providing vital services to your community.
The Market is Growing
Thirty-seven billion dollars a year is spent on medical care for children. That figure grows each year. The senior care industry is also growing at an alarming rate. Meanwhile, the medical community is stretched thin trying to respond to the demand. There aren't enough caregivers or in-home care franchises to handle the need.
Starting your own nursing care agency can help fill those gaps and offer your community a high level of medical care for families needing in-home services. By the end of this decade, the medical services industry is expected to reach $6.2 trillion.
Quality of Care
There's no question that the best place for a child to receive nursing care is right in the comfort of their own home.. In-home nurses can take their time, get to know the patients and families, and offer the highest level of care available.
For example, First Day Homecare is committed to the highest standards of care and is accredited by the Accreditation Commission for Healthcare (ACHC) in Private Duty Nursing services. It leads with evidence-based practices and procedures for consistent, reliable, effective care. Quality of care is one of our most important objectives.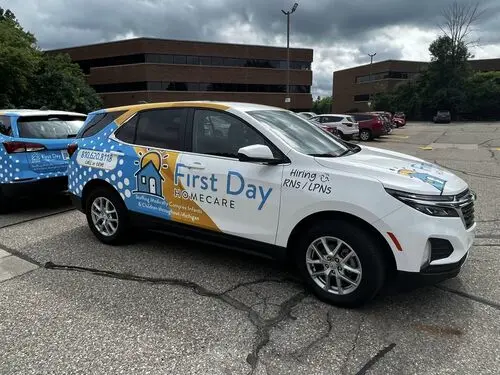 An Alternative to Hospitals
Nurses who work in hospitals often experience burnout because they are overworked and rarely have enough time to spend with every patient.
An In-Home Care Franchise company offers them a better option. They get to work with a specific family long-term and get to know the parents and child. They can take as much time as needed to perform daily tasks and offer tactical and emotional support. Additionally, they go home each night feeling like they made a difference but aren't so exhausted that they feel overwhelmed or burnt out.
Why First Day Homecare?
First Day Homecare is one of the most desirable skilled nursing care franchises you can invest in. Purchasing a First Day Homecare franchise offers nurses an alternative to hospital work and provides a critical service to your local area.
Some other reasons to consider First Day Homecare are:
First Day Homecare puts people over profits whenever possible.
Positively impact your community and families.
An excellent franchise model based on practical, streamlined operations to support both the First Day Homecare staff and their patients.
First Day Homecare prioritizes its employees to ensure everyone is happy and equipped to do their best.
Pediatric home care is a niche market with patients needing trustworthy, transparent support.
An experienced leadership team.
Established and recognizable brand.
Thorough training and support.
Scalable business model.
Affordable initial investment.
Become a franchise owner and be your own boss.
Multiple revenue streams.
Ample marketing support and training.
An incredibly supportive culture.
All the hard stuff is already done.
Doesn't require medical knowledge.
If you dream of owning your own business and want to positively impact others and your community, an In-Home Care Franchise like First Day Homecare is a great option.
First Day Homecare is a people-first organization where the nursing staff gets all the time they need to deliver focused, compassionate nursing services, families breathe a little easier, and franchisees build a business they are proud to own. Home care franchise owners provide valuable support services to their local area.
We provide senior care services and care for medically fragile children. Along with the pediatric industry, the senior care franchise industry grows enormously yearly.
Get Started Now with Your Own In-Home Care Franchise
When considering in-home care franchise opportunities, consider First Day Homecare and all we have to offer. Contact us today to learn more about this exciting Homecare Franchise Opportunity. Together, we'll work to make today the First Day of better days.